Approximately 10 billion farm animals are slaughtered in the U.S. every year. Farm Sanctuary is working to end cruel farming practices. This past Thursday,
On The Verge
had the honor of attending Farm Sanctuary's Winter Wonderland benefit to help raise money for Farm Sanctuary to continue their programs in public education and protecting farm animals.
The event was well attended by concerned animal-friendly people, community leaders and green celebrities including Jen Coolidge, Laurie Anderson, Lou Reed, Corey Feldman, Rory Freedman, Daniela Sea, Tatum O'Neal, Ally Sheedy and more.
We made a lot of new friends and will be bringing you exclusives with
On The Verge
including:
*Gene Baur - President of Farm Sanctuary and author of bestselling book
Farm Sanctuary Changing Hearts and Minds About Animals and Food.
Gene`s first fundraiser for Farm Sanctuary was selling vegan hot dogs out of a van at Grateful Dead concerts!
*Daniela Sea - Max Sweeney from
The L Word
, shares with us how she became vegan, her favorite meals and how she got involved with Farm Sanctuary.
*Maria Dahvana Headley - author of
The Year of Yes
who shared insights with us from her book about the year that she stopped considering and starting saying yes...to every man who asked her out; from the 70-year-old at the laundromat to countless construction workers!
*Chloe Jo Berman - she'll be a TV star soon showcasing greener ways to live well and fashionably on The Style Network and currently runs
The Girly Girl Army
(seriously check this out and sign up now for yummy recipes, compassionate living and great fashion finds for the green and glamourous)and is Farm Sanctuary's Celebrity Coordinator...talk about a cool job!
We also met the lovely and talented Elizabeth Olsen of
olsen Haus
, designing pure vegan amazingly fashionable and apparently also comfortable high end shoes. (I was complaining that my feet were hurting but everyone in olsen Haus shoes seemed totally fine on their feet!) Stay tuned for a special sit down with Elizabeth and a viewing of her gorgeous line.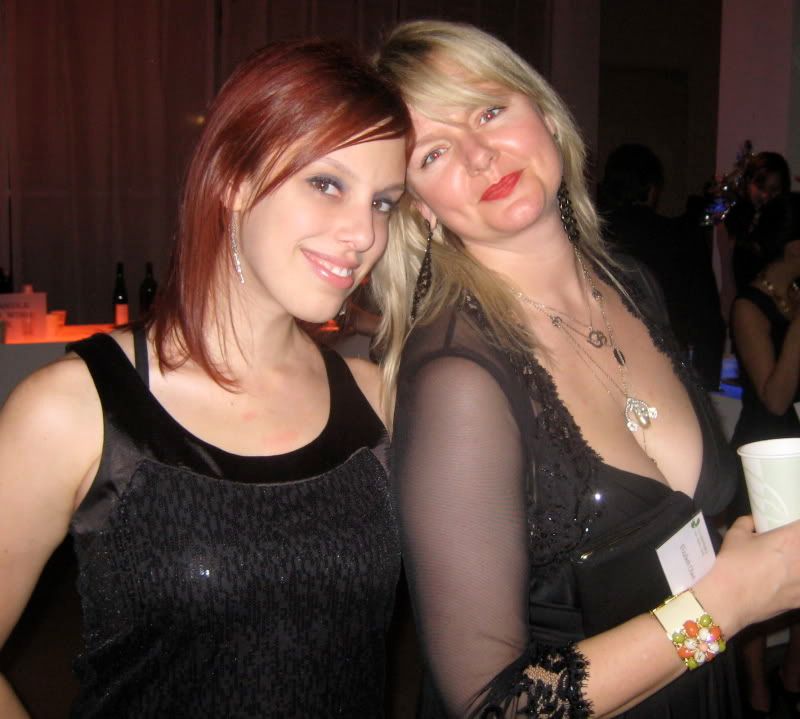 Jordana with Elizabeth Olsen
*By Jordana who is currently vacationing in Argentina and still a vegan...more on that to come as well!