Note: Planet Verge also did a filmed interview with both bands; check back here and at PlanetVerge.com in the next few weeks for the exclusive footage!
Last week I was lucky enough to catch The Academy Is at a "one night only" US show before heading off to the UK for a string of performances. Adding to my good fortune, I also had the pleasure of seeing fellow-Atlantic Recording artists, Love Arcade, open the show for their one and only tour date with The Academy Is.
Snowhite, the virtuoso behind Love Arcade truly is a jack-of-all-trades. Not only did he write all of the pop songs for Love Arcade's self-titled debut, but he engineered, produced, played, sang and even did the graphic design for the album! A hard-worker off the concert stage, when Snowhite performs on stage, you can expect no less!
Snowhite and his band played about a 25-minute set. Memorable songs included "Passenger," a sexy-pop ballad that surely sent all of the fifteen-year old girls in the audience into daydream-mode and "Keep it Comin,'" an anthem-atic song with a punk-edge, especially live.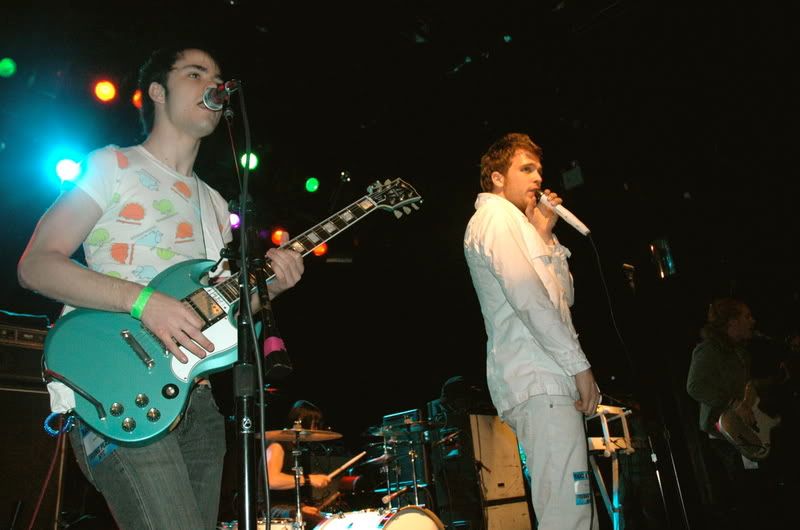 Describing Love Arcade is a bit complex as, at the live show, they seem especially edgy and tough, but the pop-hooks and bubble-gum lyrics give them a dollop of Backstreet Boys. Snowhite sings, "keep it crackin' like a bubble pop pop pop." Regardless, it's an interesting mix and a fun show to check out if Love Arcade is in your hood.
And as for the name Snowhite, it's a high school nickname that stuck (and that Snowhite brings to his stage performance, typically performing in all white). Apparently, Snowhite wasn't a morning person in high school and his classmates joked that he looked as sickly and pale as a cokehead each morning.
The Academy Is, the headliners of the night, blew the crowd away with extreme energy that couldn't be matched by a dozen cases of Red Bull. The crowd fed off of the band's vibes, averaging about four crowd-surfers per song and only a few dropped bodies. The band tells me that they do notice and appreciate their crowd-surfers. Adam, the band's bass player, shared his one and only crowd-surfing experience with Planet Verge. A few years back, Adam took the plunge at a Midtown show. Unfortunately, Adam found himself passing over the crowd during a song where fans traditionally give two punches in the air as Midtown sings "hey, hey!" I'll let you guess where on his body Adam took those two "hey, hey" punches..!
I think a huge part of The Academy Is's success, besides the obvious catchy singles, is how they connect with their fans, on stage and off. On stage, lead singer, William, dedicated a song to a fan he met in line for tickets to their Irving Plaza show. The fan was the first in line and had waited for hours in the rain! There were also several points during the show when William would jump off the stage and reach out to fans or slap a high-five to a passing crowd-surfer.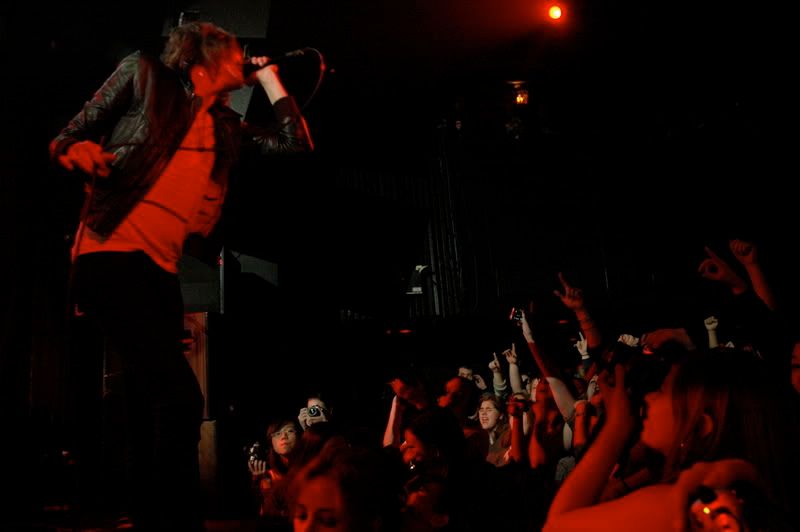 The band connects online, too. The guys tell me that they personally check their MySpace page and respond to as many fans as possible. It's no wonder that fans feel such a connection to this band and sell out their shows in record-breaking time!
Now, to single out one or two songs from the band's Irving Plaza show wouldn't be doing their performance justice at all. Every song they performed was amazingly vibrant, powerful and full of life (really, the show was nothing short of a fabulous time!). I can, however, highlight a few special and unique moments:
-We've Got A Big Mess On Our Hands – the first single off the forthcoming (April 3rd) album titled Santi. Intense drum beat and the crowd already knows the words! Speaking of knowing all the words:
-Attention – the band sang this for the first time in months, but they only sang about half of it, the crowd sang the other half, word for word.
-Seed – Another song off Santi. A real treat and first listen for concert-goers. Big time power ballad.
-New guitarist. Recognize that cute Aussie? Michael Guy Chislett from Butch Walker and the Let's Go Out Tonites has joined forces with The Academy Is! Michael describes the move as natural since The Academy Is spent so much time at Butch Walker's house and since Butch produced Santi for the guys.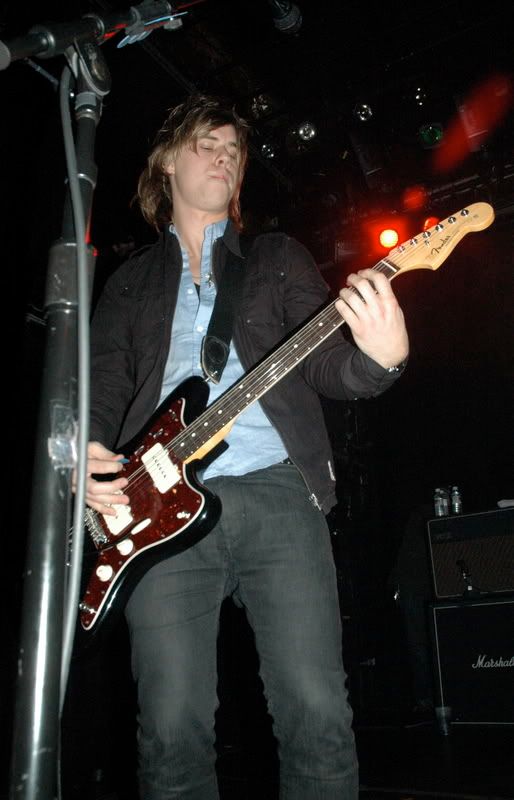 -Small club tour. For those of you who can't afford to see The Academy Is supporting Fall Out Boy on their arena tour, The Academy Is is planning a smaller club tour in late summer.
That said, if you can afford the $40 ticket for Fall Out Boy & The Academy Is, do it! Think of it as an investment in your physical fitness – you'll spend an average of two hours on your feet, jumping, dancing, swinging and singing and you won't even realize you're tired til your head hits your pillow at night.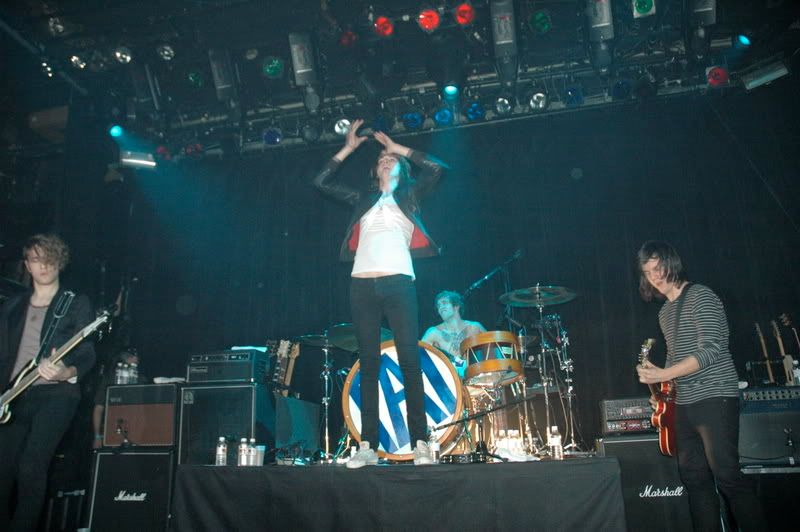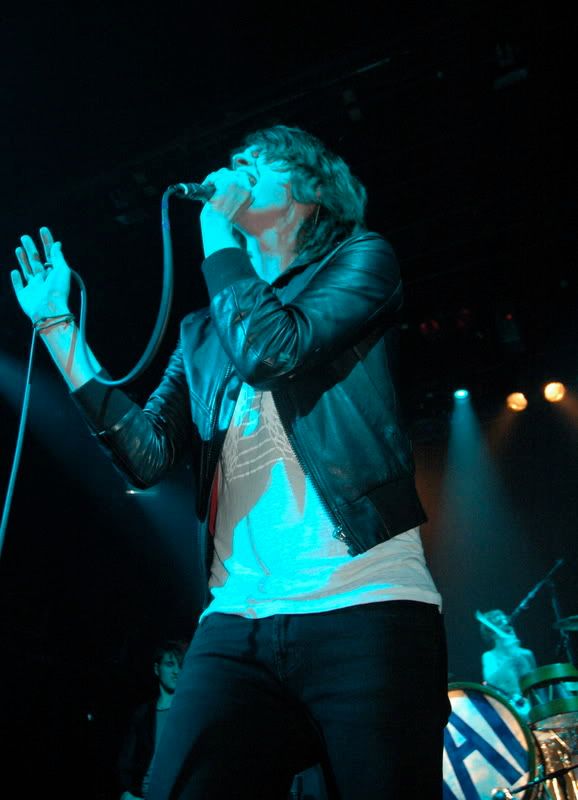 *by Jordana