Thursday night started off with a bang. Unfortunately, the bang was more of a thump when Morningwood's guitarist fell off the stage right before doors. No one is really sure exactly how it happened, but it was a show-stopper for the band as the guitarist had to be rushed to the ER. Morningwood tried to make amends with the crowd, giving away a few dozen t-shirts.
The Sounds took the stage a bit earlier and treated the audience to a sexy, spitting, new wave rock n' roll romp, more than making up for the crowd's earlier disappointment. Their energy immediately took over and, in seconds, everyone was having an undeniably amazing time.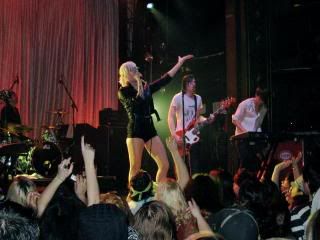 For the first few songs we couldn't help but notice lead-singer Maja's barely-there short shorts. It's possible that my friend Sonia and I were even more intrigued by the shorts than guys at the show. Sonia commented that perhaps Maja shouldn't be rocking the shorts quite that short. At first, I agreed, but as the show went on, I realized the shorts epitomized a fuck-you-cool attitude that is so apparent when you listen and especially when you see The Sounds perform. I envied Maja for her explosiveness on stage - squatting, jumping, pulsating, dancing atop the drum set and her sexy fellow Swed band mates. Maja's absolute confidence was captivating and unequivocally sexy.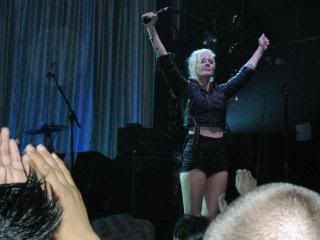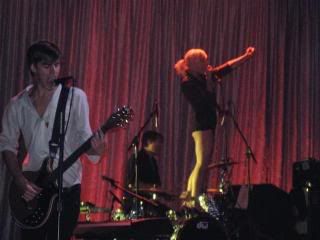 See The Sounds. 'Hot and sweaty (they) just do it, do it, do it real good and give it all to you.'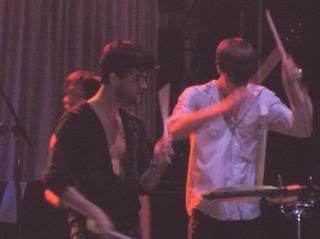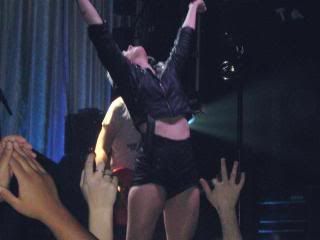 *by Jordana (who is breaking out her Sounds tunes for some cardio-kickboxing inspiration)